With nature as its model, A.K. TEK MEDIZINTECHNIK transfers the "quadrature of nature" by way of the finite element method into mathematical equations. Using these, A.K. TEK then develops production-ready solutions for dental implantology, spinal surgery, and hand surgery.
Our solutions require only minimally invasive and micro-surgical treatment and bring significant improvements for the work of the doctor and the health of the patient.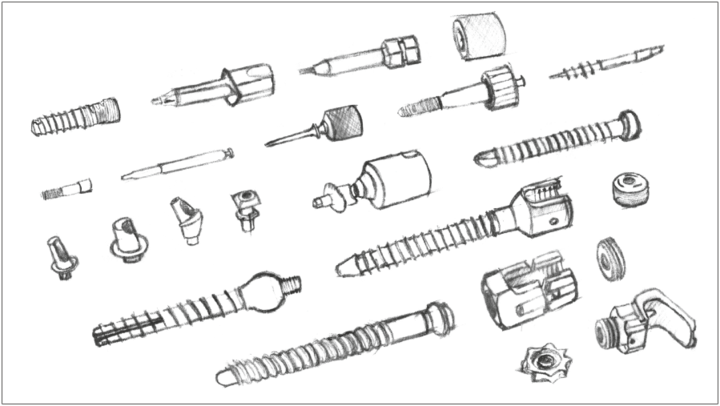 Here is one of the many good examples for the diversity of products and services at A.K. TEK MEDIZINTECHNIK: implant molds with specially matched system components; these implant mold significantly improve both implantation comfort and the stability of the implants.
Or special materials with characteristics specifically designed to achieve desired medical effects. And to provide yet another example, surfaces that enhance the biological fusion of bones and implants.
All solutions and products are made individually for our clients. At this point let us show you a few sketches that will help you appreciate our areas of competency.
Do not hesitate to contact us so we can discuss your ideas together.
Dental Implantology
» Dental Regulating Components
» Implant Systems
» Retaining Elements
Spinal Surgery
» Artificial Intervertebral Disk Housings
» Bone Screws
» Surgical Individual Solutions
Hand Surgery
» Hand Surgery Implant Systems